OSHA Compliant Industrial Baseline & Annual Hearing Evaluations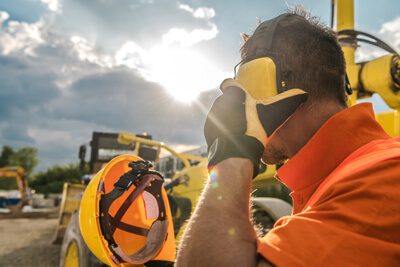 The Occupational Safety and Health Administration, also known as OSHA, is a government agency that sets specific standards for healthy and safe working conditions.
Noise-induced hearing loss is one of the most prevalent occupational hazards, and it is associated with many industrial jobs. Workers in the mining, construction, military, and manufacturing fields are at especially high risk for noise-induced hearing loss, making it a critical health and safety issue.
Audiometric Testing Program Requirement
Because of this, employers in these industries must establish and maintain a comprehensive audiometric testing program that includes industrial baseline audiograms and annual hearing evaluations in compliance with OSHA regulations.
Industrial baseline audiograms and annual hearing evaluations measure the acuity of an employee's hearing.
Baseline Audiogram

Baseline audiograms are generally conducted as part of a new employee's physical examination to assess their hearing acuity as they begin employment. This exam is performed before the patient's exposure to any noise in the workplace.

Annual Hearing Test

Annual hearing examinations, conducted each year of the patient's employment, compare the employee's current hearing to his or her initial baseline audiogram to help determine whether there has been any significant hearing loss.
The results of these examinations can often enable employers to make changes that will provide a safer working environment for employees, such as installing a muffler or building an acoustic barrier.
Request More Information!
To request more information about OSHA Hearing Protection Program requirements, please call (804) 509-1877 or contact us online today!